Franck Monthe, new coordinator for the P3FAC project
The P3FAC project started in 2018, and constitutes a "Public Private Partnership for the sustainable management of Central African Forests".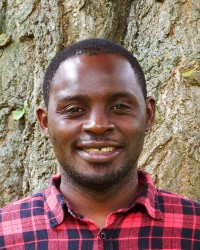 Franck Monthe joined the Nature + team (the association assumes the delegated management of this project) from Gembloux (Belgium) in July 2019 as project coordinator.
As part of this project, he is in charge of the monitoring and implementation of scientific and technical activities, the animation of the network of partners: COMIFAC, ATIBT, CIRAD, Gembloux AgroBio-Tech, private sector, national institutions research and education, local governments in charge of forests and monitoring of exchanges with major donors.
Franck holds a Ph.D. in Tropical Forest Genetics and Ecology from the Université Libre de Bruxelles (ULB) in Belgium. He has over six (6) years of experience in areas related to the sustainable management of African tropical ecosystems.
During his PhD work, he mainly used molecular genetic techniques to understand the mechanisms explaining the diversity of African tropical forests and their responses to global changes.
He works to take genetic data into account in biodiversity conservation strategies in a logging context. He also carries out extensive data collection work in the field (various Central African countries) in collaboration with forestry companies.
Franck provided technical expertise on genetic aspects in major sub-regional impact projects Beyond Timber and DynafFor. Many of his works are currently being valorized through scientific publications, oral or poster presentations and many others.
His scientific experience, his knowledge of the field, his communication with the subregional institutional sector and his understanding of the issues related to the sustainable management of forests in Central Africa, are all major assets needed to carry out the activities of the P3FAC project.
As a reminder, the ATIBT and the Central African Forest Commission (COMIFAC) have delegated the operational activities of this project to the Nature + association to coordinate the activities of the scientific partners, in particular Gembloux Agro-Bio Tech of the University of Liège, specialized in agronomic sciences and biological engineering and CIRAD, Center for International Cooperation in Agronomic Research for Development.