FSC: The new Congo Basin team is settled
Certification, COUNTRIES AND FORETS IN THE CONGO BASIN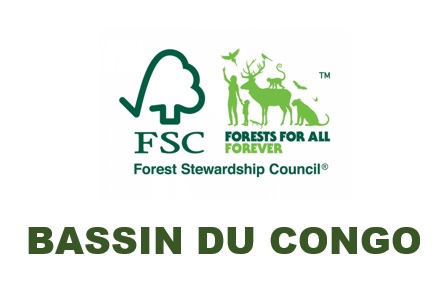 Following the announcement of the departure of Mathieu Auger-Schwartzenberg on 31 January 2019 as director of the FSC Congo Basin office, his new team whose Bertin Tchikwanga as Congo Basin coordinator and Nathalie Bouville as communication manager is settled !
Below is a message from Harrison O Kojwang, Africa Regional Director
"Dear Stakeholder,
In pursuit of our main objective to promote responsible forest management in the Congo Basin, and in a manner that supports socio-economic development and safeguards environmental values, I write to first than you for your continued support to and engagement with the Forest Stewardship Council. Consistent with our objective to continue and improve our engagement with you, I am happy to announce a change of roles and a new appointment to our Congo Basin Programme.
You will recall that from January 15th2019, Mathieu Schwartzenberg was replaced by Ms Nathalie Bouville who has been the FSC Coordinator in the Congo Basin in an acting capacity till April 30th2019. First, I want to thank your institution for the support, courtesy and collaboration that she has enjoyed from your institution. Ms Bouville during her short tenure as Coordinator, has done a sterling job to keep FSC informed on key events in the Congo Basin and has also shared your concerns with my office and within our network. Because of her considerable experience in Public Relations and Communications, my office was happy to appoint her as the new and fully bilingual 'Communications Manager' for our entire Africa Programme. She will assume this new position from May 1st2019. I therefore seek your support to enable her to use her skills as an experienced communicator, to serve our mutual interests in responsible forest management.
In view of Ms Bouville's new role, my office is equally happy to introduce Mr Bertin Tchikwanga as the new FSC Coordinator for the Congo Basin. Mr. Tchikwanga, comes with considerable experience in the forest sector in Cameroon and the entire Congo Basin. He has worked in government, international environmental organisations, and the forest industry. As the new Coordinator for the Congo Basin, it is noteworthy that Mr Tchikwanga has worked as 'Certification Officer' in a major Timber Company. He therefore understands the timber industry quite well and displays balanced view on both the environmental and socio-economic aspects of the forest sector.
With the above appointments, I appeal to you to continue to work closely with our office and to bring up issues of interest and concern so that we can work with you constructively to achieve our common goals and objectives. Kindly join me in welcoming and congratulate my two colleagues in the new and exciting roles.
I thank you and wish you the very best in 2019
Kind Regards
Harrison O Kojwang, Africa Regional Director"