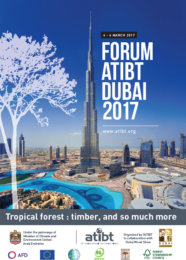 A 20th edition with an unusual destination, but up to expectations

For the first time since its launch in Rome in 1982, the ATIBT International Forum, which brings together experts from the forest-tropical forest sector every two years in cities around the world, was held in the Middle East, in Dubai. 130 participants took part in the debate on five themes: the future of the tropical forest and its population, training, legality, logistics and the African timber market, from 4 to 6 March, with the official participation of the Ministry of Economy of the United Arab Emirates and Her Excellency Estelle Ondo, Minister of Forest Economy, Fisheries and Environment in Gabon.
ATIBT, along with several of its members, then held a stand at the Dubai WoodShow, with which it was associated to organize the event.
TECHNICAL FORUM

---
Opening by Robert Hunink, President of ATIBT

Address by H. E. Mrs Estelle Ondo, Gabon's Ministry of Forest Economy, Fishing and Environment, in charge of the preservation and sustainable management of ecosystems

SESSION 1 – The future of tropical forest and its population

Theme 1.1 – The new challenges of forest management in Central Africa
Theme 1.2 – Model of the forest concessions in the Congo basin – Current considerations and debates
Signing of the Convention of the P3FAC projet between FFEM and ATIBT with Mrs. Aurélie AHMIM RICHARD (Fonds Français pour l'Environnement Mondial – French Facility for Global Environment)
Theme 1.3 – Valuation of related products
SESSION 2 – Training in the timber professions

OFFICIAL FORUM

---
SESSION 3 – Legality, certification, global warming and responsible purchase of timber
ATIBT FFEM Film "How to preserve tropical forests" (3 min)
Theme 3.1 – Legality
General presentation of FLEGT program and its interest for UAE authorities



European Union Timber Regulation (EUTR)
Volontary Partnership Agreement (VPA)

Blandine Ouoguia et Jack Soh Ndeh (GFBC – Forestry Syndicate in Cameroon) : Private sector experience with VPA : traceability project

Jacqueline Lardit-Van de Pol (ATIBT) : Legality and global warming
Theme 3.2 – Private initiatives for the responsible purchase of timber
SESSION 4 – Logistics, challenges and opportunities
SESSION 5 – African timber market in the world and in particular in the Middle East

Theme 5.1 – Progress report on the ATIBT Marketing Program
Theme 5.2 – Tropical timber trade in the Middle East
Theme 5.3 – Assets and qualities of tropical timber