Kevazingogate : Are we coming to the end of logging activities block in Gabon?
UFIGA published a press release on the last 27th of May, to highlight the untenable situation for the members of its union.
Many virtuous companies find themselves in great difficulties caused by the decision to stop on container packing with wood products and on log transport from the railway station of Owendo, while waiting for the results of legal investigations about the Kevazingo scandal.
The 15 members of UFIGA, of which none is implicated in the Kevazingo scandal, and of which several have their concessions third party certified for legal and/or sustainable management (OLB, TLV, FSC and/or PAFC), are finding themselves in a very fragilized economic situation.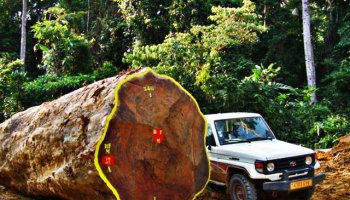 Indeed, because of the stop on container packing and the stop on log provision of some of the industry sites, some have been obliged to place their agents under technical unemployment (already 373 agents, and another 760 if the situation remains unresolved next week). In the forest 3,300m3 of logs are blocked, and in the log parc of the railway station about 12,000m3. The stock of transformed wood products ready for evacuation is as high as 29,000m3.
Added to this are the delays in delivery which impact enterprises credibility and risk for reclamations.
UFIGA has written to the Primary Minister to underline its support to the undertaken efforts to combat illegal logging, and to ask reinforcement of the Owendo Water and Forests Brigade, and a recovery of possibilities for log transport and export of wood.
Following this request, representatives of UFIGA were received by the Prime Minister on May 28th. He has announced a recovery of customs services and water and forests in the coming days.