Different types of processing for wood and hydraulic wood
In order to enhance the value of its resource, the Gabonese Republic has decided to classify wood processing according to three levels. It should be noted that the levels of wood processing are different from one country to another. The ATIBT association had opted for 3 levels.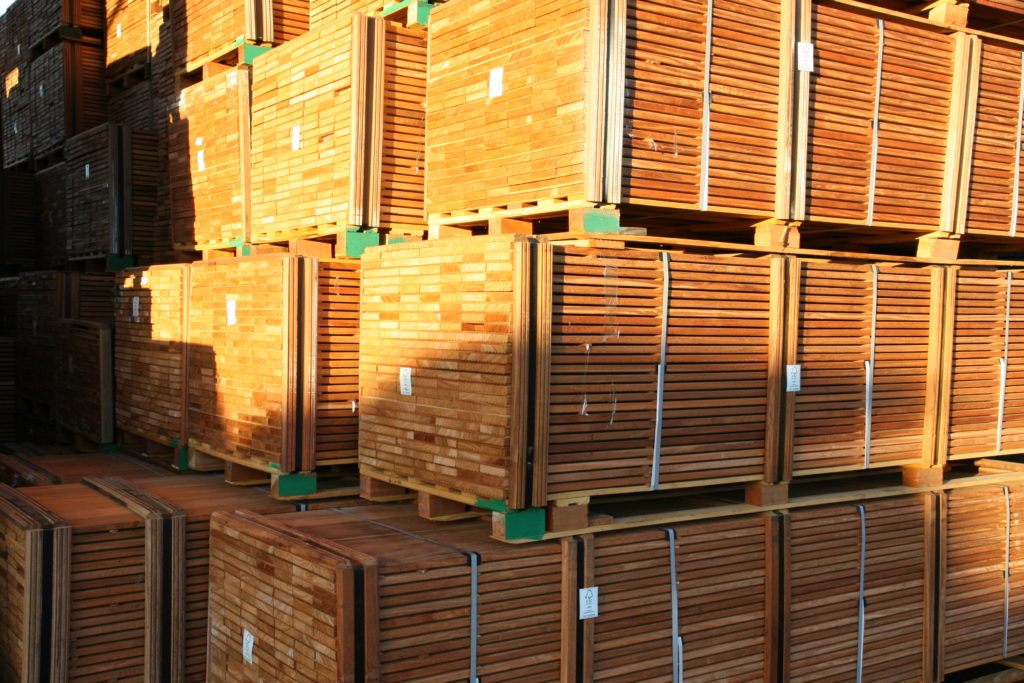 Hereafter are the different levels of wood processing which should be adopted by the Gabonese Republic :
First processing : squared edge timber or sawn timber from stumps, forks or limb, square-edged lumber, boules, beams , sawdust, wood shavings, wood chips, paper pulp, charcoal (in bulk), sliced or peeled veneers.
Secondary processing : treated wood, artificially dried wood, dried sliced or peeled veneers, moulded, planed or sanded wood, semi-finished solid wood strips, turned wood, windows and doors frames glued laminated and/or finger-jointed, pellets, briquettes and other bulk fuels.
Third processing : carved objects, musical instruments and parts of musical instruments, furniture and parts of furniture, joinery (frames, doors, windows and parts of frames and windows…), finished strips and profiles (parquet flooring, cladding…), marquetry, panels (solid, of particles, fibres, OSB, plywood, blockboard plywood, …), pallets and boxes, glue laminated boards, industrial frames, piles and fence posts, shaped railway sleepers (drilled, notched or chamfered), paper, cardboard, bagged charcoal.
Regarding the third transformation, it seems essential to add hydraulic wood. Indeed, they are produced within the framework of "list cuttings", i.e. specific and high-value orders. The vast majority of these hydraulic woods are produced from: Bilinga, Niové, Azobé (Ekki), Okan and Tali. Moreover, they cannot be dried.
NB : The promotion species or those lesser known (LKTS or LUTS) to the markets must, for their part (Andoung, Igaganga, Eveuss, Gombé, etc.) benefit from a special arrangement.
Author :
Emmanuel Groutel
President of the ATIBT Technical Commission
Judicial expert at the Court of Appeal of Caen
Judicial expert at the Administrative Court of Nantes
Member of la compagnie des Experts under the jurisdiction of the Court of Appeal of Caen Membre of la Société des Experts Bois