Formalizing artisanal logging in Central Africa
A new project "Promoting and Formalizing Artisanal Logging in Central Africa – Promouvoir et formaliser l'exploitation artisanale du bois d'œuvre en Afrique Centrale (PROFEAAS)", mainly financed by the FFEM and supported by CIFOR.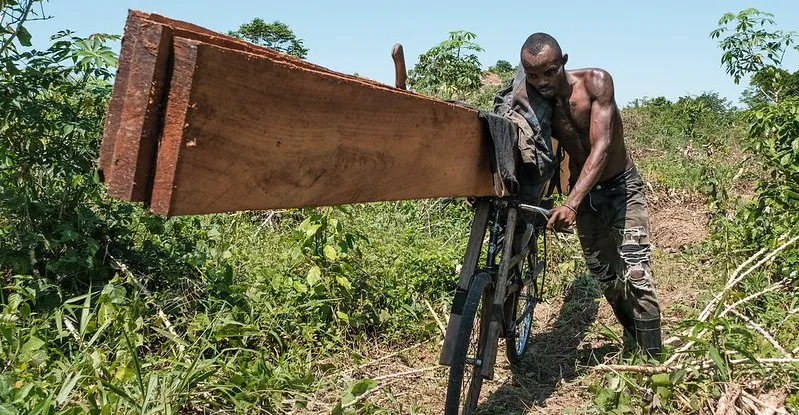 On 5 May, CIFOR published a news article presenting this future project.

This text highlights the booming of domestic and regional timber markets in Central Africa. « Across the region, rapid population growth, urbanization and economic development are driving an increase in domestic demand for sawn timber, which in many countries is already more important in volume than demand for industrial timber for export. »
This market, which is predominantly informal, generates significant employment and income in Central African countries. «In Cameroon, for instance, chainsaw milling provides 45,000 direct jobs and generates more than 20 billion FCFA ($33 million) in revenues, according to a study led by the Center for International Forestry Research (CIFOR).  »
"The sustainable use of forest resources should become a driver of development in Central Africa, but informality hinders economic growth and limits the potential benefits for both loggers and the government" Guillaume Lescuyer, scientist of CIRAD and an associate researcher with CIFOR
The article shows, through the words of Richard Eba'a Atyi the regional coordinator of CIFOR, that informal artisanal logging contributes to deforestation and forest degradation.
"Small-scale timber production is largely neglected by existing forest governance, which is designed to meet the needs of the industrial sector. This situation makes it difficult to adopt policies that can seriously reduce the environmental impact of artisanal logging. Unless we bring the sector to light, it will be difficult to make it more sustainable."
It is in this context that CIFOR came up with the idea of the PROFEAAC project, the implementation of which will begin by 2023: "the project adopts an integrated approach to the formalization of artisanal logging that links the sustainable management of wood resources to the development of domestic demand for legal sawn timber"
The project seeks to:
Build up the capacity of small-scale loggers

to operate within the law
to develop their commercial and financial competences to improve their living conditions

Enhancing the value of artisanal exploitation in the development strategies of decentralized territorial entities
Promote consumer demand for legal sawn timber on private and public markets.
Reduce the contribution of small-scale logging to forest degradation

Develop low-cost methods for estimating and monitoring the environmental impacts of the artisanal sector.
Promote local measures for the regeneration and reforestation of woody species and agroforestry.
The project targets two countries: Cameroon and the Democratic Republic of Congo.
"CIFOR has selected two pilot sites in the East and the Center regions of Cameroon that supply the capital city of Yaoundé. The aim will be to promote the Timber Exploitation Permit (PEBO), as laid out in the 1994 Forestry Law. PEBO permits allow small-scale loggers to legally exploit and commercialize a limited volume of timber according to their technical and financial capacity. In DRC, the project is operational in Tshopo province and the main regional markets it supplies, especially Kisangani. There are two types of permits that will be tested: the small-scale logging permit (Permis de Coupe Artisanale, PCA) for individual loggers, and the Local Community Forestry Concession (CFCL) for community managed forests."
Credit: Forests News