Nature + job offer Odzala-Kokoua National Park (PNOK) in Republic of Congo
As part of this project, Nature + opens a position of Technical Assistant specialized in participatory management and social forestry. The contract will be for a period of 48 months. The technical assistant position for Nature + Non-profit Association (ASBL) is open from September 2019.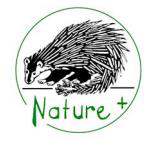 Nature + is a Belgian association specialized for nearly 20 years in the sustainable management of natural resources through community and participative approaches.
Mainly oriented towards the forests of Central Africa, Nature + is active in the field of social forestry.
Within the framework of the Support Program for the Preservation of Biodiversity and Ecosystems in Central Africa (ECOFAC VI), funded by the European Union, African Parks Network, the Odzala-Kokoua Foundation and Nature + have obtained funding for Project entitled "Conservation of Natural Resources and Sustainable Development of Odzala-Kokoua National Park (PNOK) – Republic of Congo". The objective of the Project is to preserve the biodiversity of the PNOK and its periphery in an integrated and sustainable way.
Based in the region of Ouesso and Mbomo in Republic of Congo, the technical assistant will work closely with the PNOK team and Project stakeholders. The assignment includes field trips to the village and bush. The assignment is scheduled for the month of September 2019.
Applications must be sent to the Director of the association, Charles Bracke, exclusively by email at c.bracke@natureplus.be with the subject "Application Technical Assistant Odzala-Kokoua National Park" before June 16, 2019. The file will include in a single PDF the letter of application and the CV.