The current tropical wood market in the USA: ATIBT interviewed the director of IWPA, Cindy Squires
Sustainable Management, USA
The International Wood Products Association (IWPA) is the leading international trade association for the North American international wood products industry. IWPA brings together every segment of the global supply chain, from producers and service providers to importers, distributors, manufacturers, and retailers.
IWPA is committed to supporting the legal and sustainable harvesting of wood products from around the world, and of course from tropical areas. By building understanding and demand in North America for globally sourced wood products, IWPA supports the sustainable management of global forests. This benefits the local communities that depend on the forest resource while generating economic growth and quality jobs for those who manufacture, sell, and use these remarkable products in North America.
IWPA and ATIBT frequently exchange views on various subjects concerning tropical timber: joint participation in events, work with CITES, etc.
Today, ATIBT wanted to know more about the tropical timber market in the USA.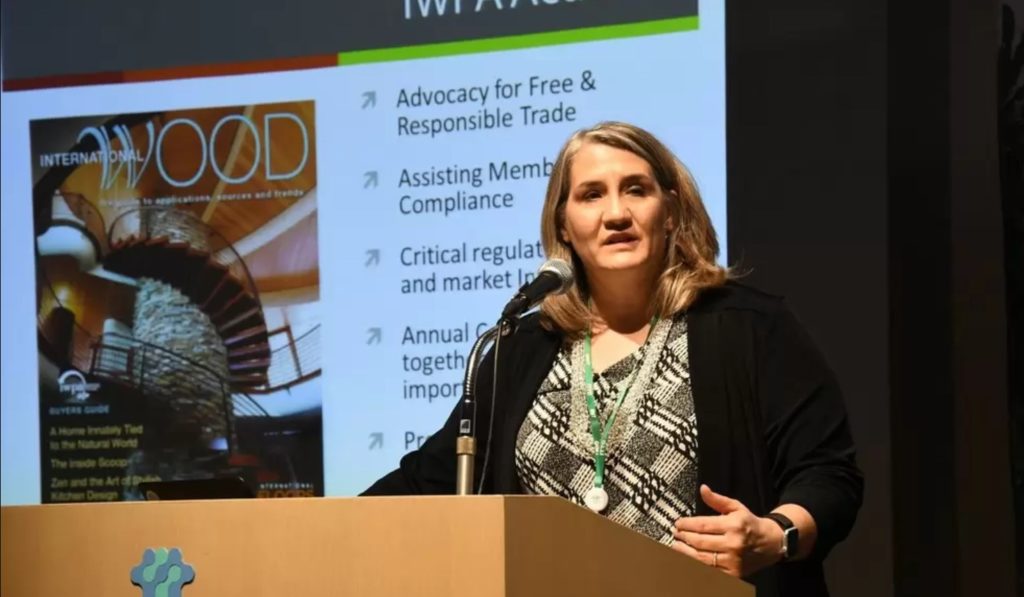 ATIBT: What has been the evolution of tropical timber imports in the USA in 3 recent years?
Cindy Squires: The market for tropical timber imports in the U.S. has been mixed, though generally bolstered by continued growth of the U.S. economy generally. According to trade statistics from the U.S. Department of Agriculture, U.S. imports of tropical hardwood lumber have grown by 14% in the first three quarters of 2019 after a slight dip in 2018. U.S. imports of hardwood plywood, however, have fallen 18% after a strong 2018.
Which are the main producing countries exporting to USA?
The list of top five tropical hardwood exporters to the U.S. (for 2019 through October) is as follows :
1. Brazil
2. Ecuador
3. Malaysia
4. Cameroon
5. Indonesia
This is the same order as for all of 2018.
The order of imports of Hardwood Plywood, according to the country, is as follows, for 2019 vs 2018:

What are the current trends in species?
There have been some shifts due to fashion. Red colored wood sales are generally down right now.
2019 so far for top five imported tropical hardwoods by value are:
1. Jatoba (up 100%)
2. Balsa (down 8%)
3. Ipé (up 8%)
4. Sapelli (up 26%)
5. Keruing (up 37%)
Mahogany (-34%), Cedro (-46%), and Meranti (-23%) imports are all down this year.
Teak has increased by 77%.
What are the consequences of the current trade war between China and the US?
The U.S.-China trade war has had far-reaching effects for U.S. importers and exporters alike. Many wood flooring and panel products have been subject to anti-dumping and countervailing duty orders that imposed additional tariffs even before President Trump added the "Section 301" duties on most wood products in 2018. These duties and the bellicose rhetoric from both Washington and Beijing have caused U.S. importers to seek manufacturers outside of China. China imposed retaliatory tariffs on U.S. wood products exports, which has devastated many U.S. producers.
Can you give examples of changes in supply?
Volume of hardwood plywood U.S. is importing from China is down 52% in 2019
Hardwood veneer imports from China down 52%
Wooden furniture down 27%
Hardwood molding down 44%
Hardwood flooring down 66%; assembled flooring panels down 41%
Does the United States look to other countries for these products?
Vietnam is now the top supplier of hardwood plywood to the US (up 83% in 2019)
Tropical hardwood veneer is down 18% overall, but Ghana (up 78%), Italy (4%), and India (18%) are up.
Imports of wooden furniture flat overall, but up from Vietnam (31%) and Malaysia (21%)
Imports of molding are down overall, but up 10% from Canada
U.S. turning to Brazil (up 121%) and Malaysia (51%) for hardwood flooring; and to Vietnam (114%) and Indonesia (43%) for assembled flooring panels.
What are the forecast / previsions prospects for the US market in 2020?
Housing starts are up and so is consumer confidence, so we anticipate continued growth in 2020. However, there is a continued trend toward "wood-look" alternatives that are largely made of plastic, especially in the flooring sector.
What is the opinion of the American consumer regarding tropical wood?
U.S. Consumers continue to see many tropical wood species as a luxury item that signifies beauty and exclusivity.
Does the American consumer understand the positive effects of responsible tropical timber consumption?
Consumers in the U.S. are generally focused on price and performance with many considering responsible sourcing a secondary but also important concern. While certification programs such as FSC and PEFC are recognized by consumers, we have not seen a willingness to pay premium prices for certified wood products. Nonetheless, there remains a desire for greater information about wood product sourcing whenever possible.