ATIBT and RIFFEAC visited the "Grand Est" Wood Career and Qualifications Campus
This Campus is the first to be labeled on the issues of wood and forest, and was visited as part of the next start of the ADEFAC project, funded by AFD.
The Career Campuses, initiated 6 years ago in France, bring together in a single place, or in a network, secondary and higher education establishments, for initial or continuing training.
Their purpose is to facilitate the integration of young people into employment through vocational and technological training and are built around a sector of activity of excellence corresponding to a national or regional economic issue supported by the community and businesses.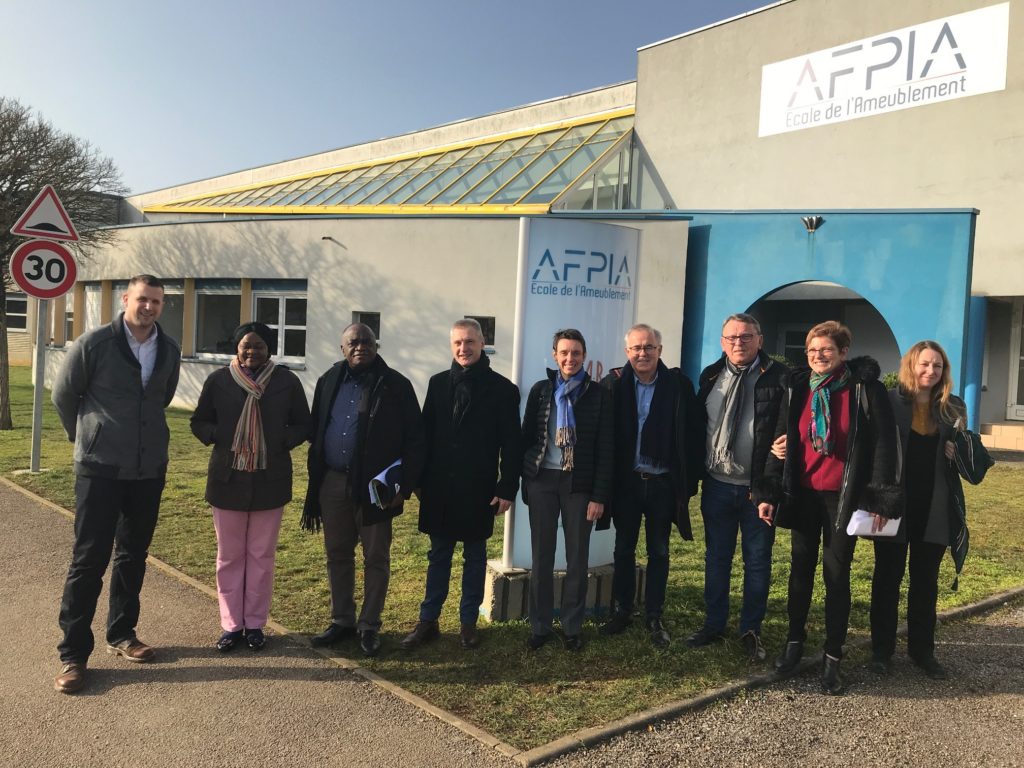 The Campus Bois Grand Est has as its center of gravity / support establishment the ENSTIB in Epinal, which manages it thanks to the Campus Director, Ms. Christine Barthélémy. The Campus brings together 9 training entities, between ENSTIB, Training Centers for Apprentices, Professional High Schools, continuing education centers for Adults, University Institutes of Technology. The scope of these training courses is comprehensive, both in terms of training levels and their specialties covering the entire forest-wood sector! Currently 52 diploma courses are offered there for 2000 learners!
All the professional sectors of the industry are covered: forestry and logging, primary and secondary processing, crafts, construction, wood energy and building thermal.
For each of these sectors, training at all levels has been identified, and in particular training at the professional aptitude certificate (CAP), professional baccalaureate and higher technician certificates. These courses are prepared in a vocational high school or in Apprentice Training Centers. Other types of training are nonetheless accessible, such as professional licenses or engineering diplomas with 2 engineering schools in the territory (AgroParisTech and ENSTIB).
All of these courses are accessible to continuing education. They are described in a repository where the level of training appears, its exact title, its duration, its cost, the location of the training, the type of validation.
In order to meet specific needs, these programs can be established on a case-by-case basis. Housing facilities at low cost can be an integral part of the training offer.
For example… in the forest and management sector, numerous long training courses at the CFPPA of MIRECOURT. The BTS in forest management is intended for employees undergoing retraining, 14 modules (1 350 hours) such as "study of forest soils", "forest management", "forest law" or "the economic weight of the forest-wood sector" …
Classically, these trainings are done face to face. However, certain parts which do not require technological support means can be relocated or carried out remotely. For example, one of our MOOCs on "Wood Anatomy" gathered 3,000 participants from 65 countries in 2016 3 years ago and still exists this year. Distance training by videoconference takes place regularly with partner universities on wood construction themes but also with the forestry training center of secondary school level.
Mrs. Christine Barthélémy accompanied the ATIBT / RIFFEAC delegation during the two days of the visit, allowing them to discover 4 training centers and which ended at the AFPIA Est-Nord Furniture School located in Liffol-Le-Grand.
We also invite you to also read : http://www4.ac-nancy-metz.fr/campus-metiers-qualifications-bois/lafrique-vient-a-nous/