The Malaysian Wood Expo 2019 will take place from 19 to 21 November in Kuala Lumpur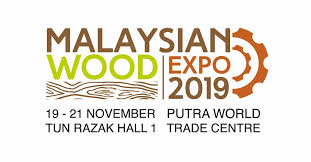 The Malaysian Timber Council (MTC) is organising, jointly with Panels & Furniture Group, the Malaysian Wood Expo (MWE) 2019 , a wood and woodworking machinery show, to which they are pleased to invite you. The event will take place in Kuala Lumpur at Tun Razak Hall 1, Putra World Trade Centre (PWTC) from 19 to 21 November 2019.
We share this information because the relations between ATIBT and the MTC are regular. Our association, together with LCB, had exchanges with the MTC at the beginning of 2019 and a work programme on the promotion of certified tropical timber in Europe was discussed. It has become clear that the promotion of tropical timber in Europe deserves to unite the efforts of the organisations involved in this task to jointly defend this market, which has been declining for years.
The ATIBT Marketing Commission will discuss this issue in the fall, as well as the common objectives between the two organisations.
This inaugural Kuala Lumpur exhibition aims to bring international timber-based industry players, woodworking machinery suppliers, buyers and related timber industry professionals for trade and networking opportunities.
MWE 2019 will focus on the market, trends, new products and the place where the tendencies of tomorrow are going to be discovered.
The main products of interest to buyers are:
Sawntimber
Plywood and veneer
Mouldings
Wooden flooring & decking
Wooden doors and windows
Furniture components
The persons concerned by this exhibition are timber and timber product importers looking for potential partners and who would like to penetrate the ASEAN (Association of Southeast Asian Nations) market and its neighboring regions.
Wood producers and processors in Africa may also wish to visit the Kuala Lumpur show in search of tropical wood techniques and trends.
Special offer for ATIBT members: MTC will sponsor buyers three (3) nights of accommodation at selected hotels. Each sponsored buyer will get one (1) complimentary single occupancy hotel accommodation for a period of 4D/3N from 18 – 21 November 2019. Terms and conditions apply. To benefit from it, please contact: Agnes Seah agnes@mtc.com.my
Download HERE the provisional programme and the registration form.
Download HERE the brochure of the event
You can also click here to register online as an exhibitor or visitor and for any other information on MWE 2019.
More information about the organisers:
The Malaysian Timber Council (MTC) was established in January 1992 to promote the development and growth of the Malaysian timber industry. MTC was formed on the initiative of the timber industry and governed by a Board of Trustees, whose members are appointed by the Minister of Primary Industries.
Panels & Furniture Group of wood magazines, publisher of wood magazines, has been delivering thought-provoking insights to its readers worldwide for nearly two decades. Among its publications are Panels & Furniture Asia; Panels & Furniture China; Wood in Architecture; American Hardwood Southeast Asia and American Hardwood China. It is also the esteemed organiser of trade fairs such as Sylva Wood in Shanghai, China; and VIFA Woodmac and BIFA Wood in Vietnam.