Certified logging concessions can play a complementary role to protected areas in the implementation of conservation strategies
Scientific research conducted by the University of Liège (Gembloux Agro-Bio Tech) in the forests of southeast Cameroon is assessing the influence of land use on forest biodiversity and the ecosystem services provided by these forests.
Gembloux Agro-Bio Tech (CARE Forest Is Life, University of Liège) and ATIBT are long-standing partners working together for the sustainable management of tropical forest ecosystems in Central Africa. They are therefore involved in the implementation of the DynAfFor and P3FAC projects of the DYNAFAC collective.
At the end of his PhD thesis in this University, Simon LHOEST has conducted his scientific research in the forests of south-east Cameroon, assessing the influence of land use on forest biodiversity and the ecosystem services provided by these forests to local populations. Indeed, the impacts of management on forest ecosystems are much less known in Central Africa than in other tropical regions.
The PhD student and his collaborators[1] have just published a new scientific article in the journal Biological Conservation. In this study, they evaluate and compare the biodiversity of a protected area (Dja Faunal Reserve), a FSC-certified logging concession (granted to Pallisco company) and three community forests managed by local populations. They measured biodiversity indicators (species richness and composition) based on inventories of mammals (44 camera traps) and dung beetles (72 pitfall traps).
By trying to understand the factors influencing biodiversity, they identified the predominant role of distance from villages and roads, as well as land use to a lesser extent, in contrast to the negligible influence of forest structure and local habitat variables. Proximity to villages and roads, which is directly related to high hunting pressure, leads to a loss of species in both groups, a reduction in the average body mass of the animals and the disappearance of the most endangered mammal species.
Mammal and dung beetle species show a lower species richness in the community forests than in the protected area, and intermediate values in the FSC-certified logging concession. Species composition is highly variable among forest allocations (high spatial turnover of species), showing that conservation initiatives should integrate many sites to target the conservation of a multitude of species, and not just focus on protecting large, isolated areas such as protected areas. The high conservation value of the protected area is confirmed, and the logging concession can play a complementary role in conservation strategies through landscape connectivity. In contrast, community forests are particularly defaunated because of their proximity to roads and villages, but they still continue to provide animal proteins to local people.
These results should not be generalized to the scale of Cameroon or Central Africa, but they do demonstrate the high potential of production forests for biodiversity conservation if managed in a reasoned manner and in connection with protected areas.
Download article « Conservation value of tropical forests: Distance to human settlements matters more than management in Central Africa »
Contact details:
Simon LHOEST
E-mail: simon.lhoest@uliege.be
Phone: +32499378920
Images obtained by camera traps within the framework of the project :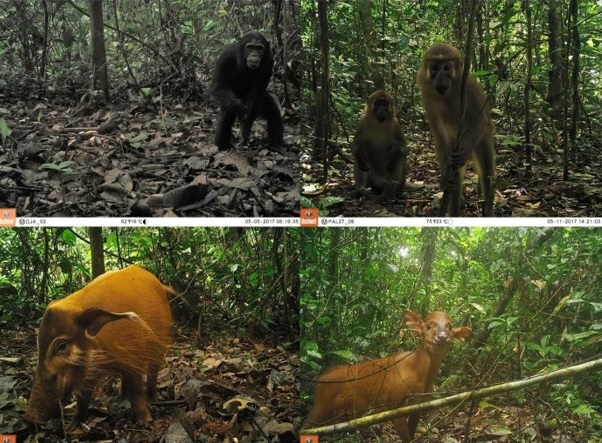 ---
[1] The co-authors of the study are part of Gembloux Agro-Bio Tech (University of Liège), Nature+ association, Catharsius association, University of Rennes 2 and University of Douala.